The City of Clifton Water System dates back to the 1950's when service was first provided to city residents. In 1984 a new plant was constructed to keep up with growth. In the year 2000 a new project to add an additional 322,500 gallons per day of treatment capacity was established. The Water Plant also tests turbidity, Ph, bacteria, hardness, and alkalinity on a daily basis. These tests have been instituted to help in providing the city with high quality drinking water. The City of Clifton began to offer sewer services to the public in the 1980's. The City currently operates two sewer plants to serve the area. Several expansions throughout the years has now made possible sewer service to most of the City.
Clifton Water Department
Paula Skelton, Water Plant Manager
310 West Water St.
Clifton, TN 38425
Phone (931) 676-3718 Fax (931) 676-5390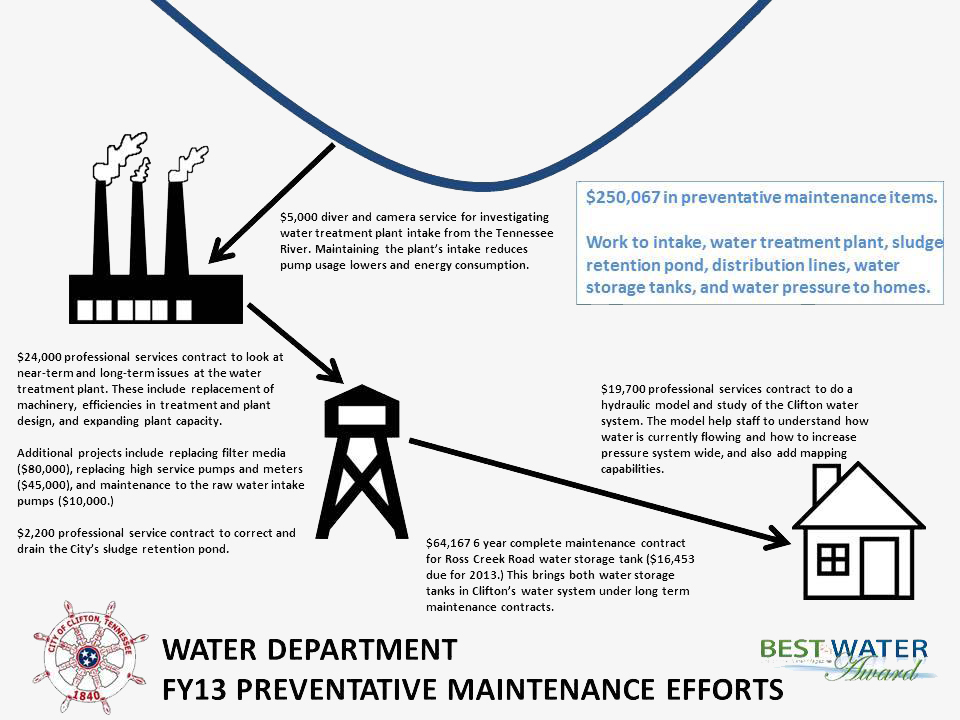 Clifton Utility Service Policies.pdf

Utility Activation Form.pdf

Clifton Request for Utility Service Relocation.pdf

Request Utility Disconnect

Water Saving Tips for Around the House
Charges and Fees:
a. Potable Bulk Water: The City of Clifton sells potable bulk water for residents and non-residents at $2.50 per 250 gallons or $0.01 per gallon. Bring your water containers, water trailers or water trucks to City Hall during normal working hours (Monday - Friday 8:00 am to 5:00 pm), pay the City Clerk and then our public works department will fill your container, trailer, or truck.
b. Water and Sewer service charges are as follows:
1000 Gallons of Water Inside City $ 5.95
1000 Gallons of Sewer Inside City $ 5.95
1000 Gallons of Water Outside City $ 11.90
1000 Gallons of Sewer Outside City $ 11.90
*Note: A minimum bill is 2,000 Gallons.
c. Water and Sewer tap fees are as follows:
3/4" Water Tap Fee $ 366.00
1" Water Tap Fee $ 524.00
Sewer Tap Fee $ 2,848.00* *Note: Sewer Tap may be paid in twelve monthly installments of $238 per month.
Commercial - Dependent upon facility demand - See City Hall for cost estimate
d. Water and Sewer Fees are as follows:
After Hour Service Fee $ 25.00
Returned Check Fee $ 25.00
Meter activation Fee $ 25.00
Meter deactivation Fee $ 25.00
Sewer Inspection Fee $ 25.00
To avoid interruption of services, bills must be paid before the closing of business day on the 21st of each month.
Fluoride Monitoring
In order to keep our customers informed and to comply with State Drinking Water Regulations, the Clifton Water System would like to inform you of recent monitoring of fluoride that we conducted on our drinking water. During the month of September 2017, our water plant experienced mechanical issues which caused a higher dose of fluoride than is typical for our system. Even though monitoring showed our fluoride level was below the regulatory limit and not at a level that would cause health effects, we do want you to inform you that we have corrected the situation and continue to monitor our fluoride dose. If you need additional information, please contact Austin Clark at City Hall (931) 676 3370.