The City of Clifton Natural Gas System first began operation in 1991 on the Tennessee Gas Pipeline. We now serve over 325 customers, including two major commercial facilities. We are a proud member of the American Public Gas Association, the Tennessee Gas Association, and the West Tennessee Gas Association.
We are also an affiliate of a natural gas purchasing group of municipalities called the Tennessee Energy Acquisition Corporation. This partnership allows us to buy wholesale natural gas in larger volumes so that we may pass the cost savings on to our customers. We encourage you to consider natural gas for your home or business needs.
The City of Clifton's Gas System Manager can be reached at (931) 676-3370.
Minimum Bill $5.60
CCA Minimum Bill $1,241.70
Residential per Mcf above minimum bill $11.48
Commercial per Mcf above minimum bill $10.68
Industrial per Mcf above minimum bill $9.78
CCA per Mcf above minimum bill $8.63
Note: The above user rates will be adjusted on a monthly basis as to account for fluctuations in the natural gas commodity market by the purchase gas adjustment method.
TAP FEES



| | | |
| --- | --- | --- |
| 3/4" | | $ 238.00 |
| | | |
| 1" | | $ 302.00 |

Note: Commercial - Dependent upon facility demand - See City Hall for cost estimate.
Federal Regulations require natural gas utilities to notify customers regarding the availability of Excess Flow Valves (EFV).
You may request that the City of Clifton install an excess flow valve (EFV) on the gas line to your property. EFVs are mechanical shut-off devices that can be installed in the gas pipe running to the gas meter at your property (the "service line"). An EFV is designed to shut off the flow of natural gas automatically if the service line breaks, for example, by an excavation accident. Stopping the flow of gas from a broken service line significantly reduces the risk of natural gas fire, explosion, personal injury and/or property damage. EFVs are not designed to close if a leak occurs beyond the gas meter (on house piping or appliances). EFVs also may not close if the leak on the service line is small. If you add additional gas appliances, for example, a pool heater, emergency generator, etc., the additional gas flow may cause the EFV to close. If you notify the City of Clifton that you want an EFV we will contact you to set up a mutually agreeable date when we will install an EFV on your service line. The cost that will be billed to you to install an excess flow valve (EFV) will be $500.00 (Five Hundred Dollars). If it becomes necessary to maintain or replace the EFV on your service line we will maintain or replace the EFV at no charge to you. EFV replacement may be necessary if you add additional gas appliances, such as a pool heater or emergency generator that exceeds the capacity of the EFV. EFV replacement may be necessary if the EFV malfunctions (sticks open or closed). Industry experience is that EFVs rarely malfunction. EFVs cannot be installed on some service lines due to high gas flow, low pressure or other factors. If you request an EFV we will inform you if your service line cannot accommodate an EFV.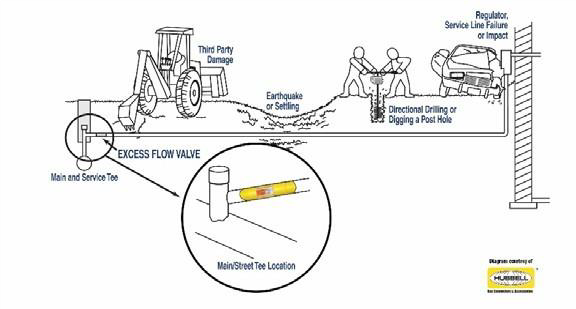 EFVs will not be installed on your service line if:
• The service line operates at a pressure less than 10 psig throughout the year;
• The EFV could interfere with proper operation or cause loss of service;
• An EFV could interfere with necessary operation or maintenance activities; or
• The capacity of the meter on the service line exceeds 3,000 cubic feet per hour
If you request an EFV, we will inform you if your service line meets any of these conditions. For your safety always call 811 to have gas lines and other buried utilities marked before allowing anyone to dig in your yard.
REMEMBER TO CALL BEFORE YOU DIG!!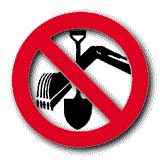 Tennessee One-Call System, Inc., is a non-profit Tennessee corporation established in 1983, whose mission is to act as an advance notification service to operators of underground facilities anywhere within the state. Tennessee One-Call is governed by a Board of Directors and an Operating Committee. They are the only such service in Tennessee and are recognized as the "official" one-call service for the state of Tennessee.
Contact Information
Call us at 800-351-1111 to request a dig / locate request.
FAX 615-366-5021

Postal address:
Tennessee One Call System, Inc.
2525 Perimeter Pl. Dr. Suite 118 Tennessee One-Call URL:http://www.tnonecall.com
Nashville, TN 37214 Customer Support: 1-800-351-1111
NATURAL GAS SAFETY TIPS:
| | |
| --- | --- |
| | Gas is odorless, so a chemical is added to it. The chemical's unpleasant smell helps you to detect potentially dangerous gas leaks from faulty appliances, broken pipes or broken mains. |
| | |
| --- | --- |
| | If you smell a slight odor of gas indoors, check your pilot lights to make sure they are lit. If that is not the problem, leave the building and call us from a neighbor's telephone. |
| | |
| --- | --- |
| | If the gas odor is strong, leave the building immediately. Do not turn on any lights or appliances. Leave the doors and windows open if possible. Don't light a match, use your telephone or switch anything on or off. Go to your nearest neighbor and then telephone us. |
| | |
| --- | --- |
| | To keep your home safe from carbon monoxide poisoning, make sure all of your gas appliances, including gas space heaters, are installed and serviced by a qualified person. Each year have a qualified serviceman check your appliances and heating units for safety. |
| | |
| --- | --- |
| | In an emergency situation, such as a punctured gas line or even an earthquake, turn off the gas coming in to your home. Learn the location of your natural gas valve. |
| | |
| --- | --- |
| | Do not keep trying if you are having trouble lighting a pilot light. Call the Gas Department or your plumber. |
| | |
| --- | --- |
| | Whenever you need to dig near your underground gas line, call Tennessee One-Call at 1-800-351-1111, so that all underground utility lines can first be located. |