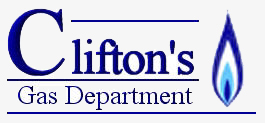 The City of Clifton Natural Gas System first began operation in 1991 on the Tennessee Gas Pipeline. We now serve over 325 customers, including two major commercial facilities. We are a proud member of the American Public Gas Association, the Tennessee Gas Association, and the West Tennessee Gas Association.
We are also an affiliate of a natural gas purchasing group of municipalities called the Tennergy Corporation. This partnership allows us to buy wholesale natural gas in larger volumes so that we may pass the cost savings on to our customers. We encourage you to consider natural gas for your home or business needs.
The City of Clifton's Gas System Manager can be reached at (931) 676-3702.
TAP FEES


Residential
Inside City
Outside City
$650.00
$500.00
Commercial

Gas

$650.00

* Note: Large commercial and industrial taps are based on cost of materials.
REMEMBER TO CALL BEFORE YOU DIG!!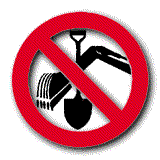 Tennessee One-Call System, Inc., is a non-profit Tennessee corporation established in 1983, whose mission is to act as an advance notification service to operators of underground facilities anywhere within the state. Tennessee One-Call is governed by a Board of Directors and an Operating Committee. They are the only such service in Tennessee and are recognized as the "official" one-call service for the state of Tennessee.
Contact Information
Call us at 800-351-1111 to request a dig / locate request.
FAX 615-366-5021

Postal address:
Tennessee One Call System, Inc.
2525 Perimeter Pl. Dr. Suite 118 Tennessee One-Call URL:http://www.tnonecall.com
Nashville, TN 37214 Customer Support: 1-800-351-1111
NATURAL GAS SAFETY TIPS:
| | |
| --- | --- |
| | Gas is odorless, so a chemical is added to it. The chemical's unpleasant smell helps you to detect potentially dangerous gas leaks from faulty appliances, broken pipes or broken mains. |
| | |
| --- | --- |
| | If you smell a slight odor of gas indoors, check your pilot lights to make sure they are lit. If that is not the problem, leave the building and call us from a neighbor's telephone. |
| | |
| --- | --- |
| | If the gas odor is strong, leave the building immediately. Do not turn on any lights or appliances. Leave the doors and windows open if possible. Don't light a match, use your telephone or switch anything on or off. Go to your nearest neighbor and then telephone us. |
| | |
| --- | --- |
| | To keep your home safe from carbon monoxide poisoning, make sure all of your gas appliances, including gas space heaters, are installed and serviced by a qualified person. Each year have a qualified serviceman check your appliances and heating units for safety. |
| | |
| --- | --- |
| | In an emergency situation, such as a punctured gas line or even an earthquake, turn off the gas coming in to your home. Learn the location of your natural gas valve. |
| | |
| --- | --- |
| | Do not keep trying if you are having trouble lighting a pilot light. Call the Gas Department or your plumber. |
| | |
| --- | --- |
| | Whenever you need to dig near your underground gas line, call Tennessee One-Call at 1-800-351-1111, so that all underground utility lines can first be located. |